Peace Corps Carried On During the Shutdown!
https://www.peacecorps.gov/news/library/peace-corps-sends-over-300-americans-service-abroad-january/
February 6, 2019
WASHINGTON – Over 300 Americans departed in January for Peace Corps service. They will spend the next two years working with communities in Albania, Ecuador, Ethiopia, Ghana, Myanmar, South Africa and Thailand. Peace Corps Response volunteers will undertake shorter-term, high-impact service assignments in China, Eswatini, Liberia, Malawi, Peru, Rwanda, Ukraine and Zambia.
The new trainees gathered at staging events across the United States, including the District of Columbia, Los Angeles, Miami and Philadelphia. These pre-departure orientations are the first stage of Peace Corps service for trainees where they receive a stateside introduction to volunteer safety and service aboard.
"Welcoming new Peace Corps trainees to Ecuador is an exciting part of my job," said Peace Corps Ecuador Country Director Michael Donald. "The trainees bring with them different skills and life experiences that will enrich their communities in Ecuador and the Peace Corps community as a whole."
Following their pre-departure orientations, the trainees were welcomed to their host countries by Peace Corps staff and will spend the next several weeks in pre-service training to learn the language, intercultural, safety and technical skills needed for successful volunteer service. Pictured below are several of the new cohorts.
Ecuador
Ethiopia
Albania
Myanmar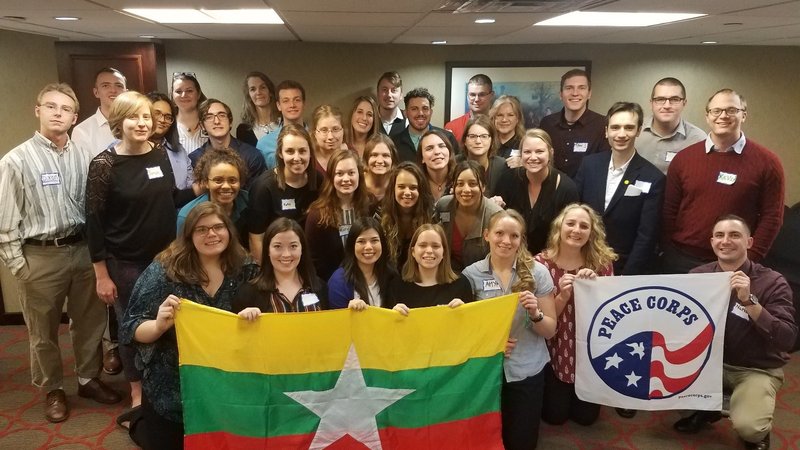 Thailand
Ghana
Malawi 
Liberia
Peru
About the Peace Corps: The Peace Corps sends Americans with a passion for service abroad on behalf of the United States to work with communities and create lasting change. Volunteers develop sustainable solutions to address challenges in education, health, community economic development, agriculture, environment and youth development. Through their Peace Corps experience, volunteers gain a unique cultural understanding and a life-long commitment to service that positions them to succeed in today's global economy. Since President John F. Kennedy established the Peace Corps in 1961, more than 230,000 Americans of all ages have served in 141 countries worldwide.