SUCCESS! Amendment Defeated!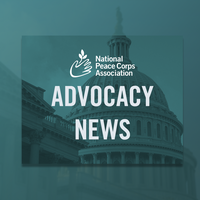 Democrats and Republicans in the House of Representatives came together Tuesday evening to soundly reject a proposal to re-allocate foreign assistance funding in Fiscal Year 2020, including the elimination of all House funds slated for the Peace Corps.
An amendment to the State/Foreign Operations funding package to cut just over $19 billion in foreign assistance programs was defeated by a vote of 315 to 110. 81 House Republicans joined 234 House Democrats to defeat the amendment.
In bringing forth the amendment last week, Congressman Mark Walker (R-NC) argued that funds needed to be re-allocated, to compensate for an earlier House vote to provide $19 billion to fund disaster relief assistance around the country. Included in his amendment was the complete elimination of $425 million proposed for the Peace Corps for the fiscal year that begins in October.
"We must prioritize our domestic needs first," Walker said during debate on his amendment last Thursday.
"How are these cuts in our national interest?", countered House Appropriations Chairwoman Nita Lowey (D-NY). Lowey referenced Peace Corps Volunteers in her remarks, saying "7,200 Peace Corps Volunteers are serving as excellent representatives of the United States."
Peace Corps Community Response
Over the last several days, members and friends of the Peace Corps community sent at least 9,000 communications to their House representatives. Every House member heard from at least one constituent on this issue, and nearly 70 percent of House members received ten or more communications – in some cases, many, many more!
"We applaud the strong, bipartisan rejection of this ill-conceived amendment," said National Peace Corps Association President Glenn Blumhorst. "I thank all NPCA members and friends of the Peace Corps community who spoke with one voice about the value of Peace Corps – not just for people around the world, but also for communities here at home when returning volunteers continue their commitment to serving others."
How Did Your Representative Vote?
At this time, the individual breakdown on how each member of the House voted has not been issued. Please return to this post for those results as soon as they become available.