Obama Selects Nominee For Top Peace Corps Job
WASHINGTON – President Barack Obama has nominated the deputy director of the Peace Corps to be the agency's director.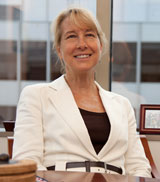 The White House on Thursday announced the nomination of Carolyn Hessler Radelet to the top Peace Corps post. She was a Peace Corps volunteer in Western Samoa in the early 1980s and held various positions with a public health management firm, John Snow Inc., before becoming the agency's deputy director in 2010.