Inside Peace Corps Issue #6
Published May 18, 2022

Chief Executive Officer's Message
On March 15, 2022, two years after the Peace Corps' first-ever global evacuation, our first group of Volunteers returned to service in Zambia! Since then, Volunteers and Trainees have arrived in nine countries and many more will depart for their countries of service in the coming months. This long-awaited return is about connecting across difference. It is also about taking action in the spirit of humble partnership and in the face of incredibly challenging and uncertain times. Over the past two years, we have seen staff, returned Peace Corps Volunteers, counterparts, and host families step up in so many remarkable ways to support each other, their communities, and their countries. The care and concern displayed by the Peace Corps network has so clearly demonstrated that the Peace Corps is much more than a service organization. It represents a lifetime of connection and solidarity. The opportunity to serve and to connect with communities around the world at this moment in history is profound. Please join us in spreading the word that the Peace Corps is back and accepting applications!
Help Spread the Word!
Peace Corps Volunteers are returning to service around the world! We would like your help to share this exciting news and connect us with the next generation of prospective Volunteers. Here are five ways you can get involved:
Download the Connect toolkit and encourage members of your network to connect with the Peace Corps, to browse Volunteer Openings, and to Apply
Explore the Share Your Experience page to learn about ethical storytelling and to access other community outreach resources
Read stories from other Peace Corps network members and submit your own Peace Corps story
Contribute photos to our Media Library to help bring the Peace Corps experience to life
Create a museum exhibit. The Museum of the Peace Corps Experience has a toolkit that can be used to Curate a Local Peace Corps Exhibit
Developments
The Return of Volunteers to Service Overseas. To date, Trainees and reinstated Volunteers have returned to nine posts: Zambia, Dominican Republic, Colombia, Namibia, Uganda, Mexico, Ecuador, Eastern Carribbean, and Belize. The Peace Corps anticipates that Volunteers will return to nearly one-third of the total countries where Peace Corps is invited to serve in the coming months. All 32 posts issuing invitations have met the Peace Corps' robust reentry criteria which involve health, safety, and other logistical factors. Learn more about the agency's reentry progress and current openings on the Return to Service page.
Reports Outlining Agency Commitments to Equity and Inclusion.  Last month, the Peace Corps published three reports that highlighted the agency's ongoing commitment to Intercultural Competence, Diversity, Equity, Inclusion, and Accessibility (ICDEIA). The reports integrate feedback from the Peace Corps network and create specific, actionable, and measurable goals that will guide the future of the Peace Corps. To access the reports, please find the links in the press release.
Full Medical Reimbursements for Eligible Expenses.  As of March 2022, Peace Corps applicants can submit all eligible expenses required for medical clearance for full reimbursement. This change was made to eliminate a financial barrier to service and furthers the agency's commitment to supporting a Volunteer corps that is representative of the U.S. population. Learn what is considered an eligible expense and more about the process on the medical clearance requirements page.
4,000 Peace Corps Response Volunteers. Established in 1996, the Peace Corps Response program coordinates three- to 12-month, targeted assignments for individuals with specialized skill sets, including health practitioners and returned Peace Corps Volunteers (RPCVs). With the return of Volunteers to Colombia in April, Peace Corps Response reached an exciting milestone of 4,000 Response Volunteers across its nearly 26-year history. Learn more about the program and view current openings on the Peace Corps Responsepage.
Initiative for Global Vaccine Access and Ongoing Response and Recovery Efforts.  Globally, Peace Corps is contributing to COVID-19 response and recovery efforts, including in the eight Peace Corps countries designated as 'surge' or priority countries for the U.S. Government's Initiative for Global Vaccine Access (Global VAX): Eswatini, Ghana, Lesotho, Senegal, South Africa, Tanzania, Uganda, and Zambia. Staff in other countries have also been integral to response and recovery efforts by collaborating directly with host governments and other partners to assist in public health campaigns. For example, as announced in a press release, staff at Peace Corps/Philippines supported mass vaccination sites, contributing to the vaccination of more than 10,000 Filipinos. Volunteers will also contribute to this work as they begin their service in countries around the world.
The Peace Corps in Photos
In the News
The Peace Corps is making headlines! Here are a few recent stories.
(Clicking any of the news links will take you to a third-party website.)
Let us not emphasize all on which we differ but all we have in common. 
 – President John F. Kennedy, Founder of the Peace Corps
Stories
In recognition of Asian American, Native Hawaiian, and Pacific Islander (AANHPI) Heritage Month, we highlight two RPCVs' stories: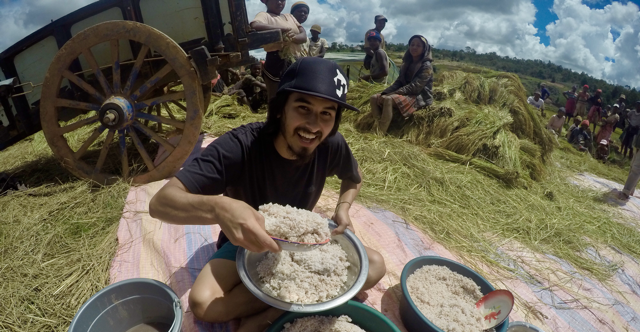 From the Big Island to the Bigger Island
"I would encourage anyone to join the Peace Corps, especially young Kānaka ' ōiwi (Native Hawaiians). You don't realize how small your world is until you leave Hawaii."