Innocent RPCV Imprisoned in Nicaragua
By Ashley Fantz,
Jason Puracal, a 34-year-old American, is seen in this image shot last year, imprisoned in Nicaragua.
Well-known human rights attorneys, FBI agent, Iran hikers defend imprisoned American
Jason Puracal, 34, was a real estate agent working in Nicaragua
No evidence was presented to support his conviction and 22-year sentence, defense says
Supporters: Puracal has been behind bars for 15 months, is seriously ill
(CNN) — Since last summer, a former Peace Corps volunteer from Washington state has been wasting away in a Nicaraguan prison, wrongfully convicted of international drug trafficking, money laundering and organized crime, his supporters say.
A growing chorus of defense attorneys, investigators, human rights activists and lawmakers is calling for 34-year-old Jason Puracal's release.
Puracal's advocates include the director of the California Innocence Project, the human-rights attorney who helped win freedom for Burmese Nobel Peace Prize laureate Aung San Suu Kyi and an ex-FBI agent who was one of the early champions of Amanda Knox's innocence. A U.S. congressman told CNN that Puracal's arrest is tantamount to kidnapping. Even the three American hikers freed from Iran have spoken out against the American's conviction.
"This is an extreme miscarriage of justice. It's a farce from top to bottom," said Jared Genser, the attorney who represented Suu Kyi. He's been working on Puracal's case pro bono.
Genser recently filed a petition with a United Nations panel alleging numerous prosecutorial flaws in the complicated case. The panel is investigating whether Puracal's conviction violates international law.
Nicaraguan authorities say the American who worked as a real estate in the tourist city of San Juan del Sur was using his business as a front to launder money for an international drug trafficking syndicate.
But no evidence was presented at Puracal's August 2011 trial to support those accusations, no drugs were found, and investigators could not establish links between Puracal and 10 Nicaraguan nationals who were convicted with him, his defense team says. Puracal has never even met the other defendants, and the co-defendants told the judge in the case that they had never met Puracal, the American's lawyers say.
The entire basis of the case against Jason [was] 'He must be guilty because look how much money he has in his bank accounts'
California Innocence Project director Justin Brooks
As to the money-laundering charge, the prosecution's sole money-laundering expert was unable to explain on the stand what an escrow account is, his lawyers say.
"The entire basis of the case against Jason amounted to 'He must be guilty because look how much money he has in his bank accounts,' never mind that they were legitimate escrow accounts involving legitimate buyers and legitimate titles," said Justin Brooks, the director of the California Innocence Project, a California Western Law School clinic that has helped exonerate 10 prisoners in the state in its 13-year history.
A CNN reporter in Managua made numerous attempts over four weeks to interview or obtain a statement from Javier Morazán Chavarría, who prosecuted Puracal. Each time the reporter spoke with Adriana Rocha, a spokeswoman for the attorney's office, Rocha told the reporter that an interview might be granted the following week and to keep calling back. Each week, the reporter's requests were rebuffed, and no comment was ever given.
Time running out
Time is critical to Puracal, his defense team says, because he's in dire health and hasn't received adequate medical care.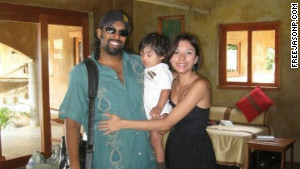 Jason Puracal with his wife Scarlett and their son Jabu.
In the past few months, the American has shed 40 pounds from his usual 180-pound frame, his lawyers say. During his nearly 15 months behind bars, Puracal has been beaten and been refused water and food for days at a time, and he's developed a painful inflammation in his bowels, attorney Genser says.
Puracal's mother and sister, who have visited him, say he suffered severe burns last winter when he tried to use an open wire in the ceiling of his cell to boil the water in his toilet to make it drinkable.
"None of this is surprising for Nicaragua — these are the conditions. But what's surprising is that it's happening to an American," said Brooks, who also trains lawyers across Latin America and will soon be launching programs similar to the California Innocence Project in Chile, Argentina and Bolivia.
"I don't see a big push from the State Department to help him," the attorney said. Brooks recently met with lawmakers in Washington to urge more diplomatic action.
"I think there's a perception that he's just another drug case in a country where there are dozens of drug cases," Brooks said.
The attorney points to the defense team's assertion that the judge who solely decided Puracal's guilt and ordered the 22-year sentence was a political appointee and not qualified under Nicaraguan law to be a judge.
The ongoing drug war in Mexico and Latin America is affecting Puracal's case, said Brooks. The U.S. has named Nicaragua a major drug-trafficking nation. The country is a stopover point for cocaine shipments, where low-level traffickers move drugs to Mexico, according to Insightcrime.org, a joint initiative of American University in Washington and the Fundación Ideas para la Paz in Colombia, which reports on organized crime in the Americas. The U.S. has given Nicaragua millions in anti-drug trafficking aid since 2007, according to Insight.
"Maybe the U.S. doesn't want to push for all those political reasons," Brooks said, "And that's scary because it suggests any American can get arrested in a country like Nicaragua, and all that country has to do is charge them with a drug offense — even if there's no drugs, no evidence — because the U.S. won't fight back."
The State Department's Consular Bureau spokeswoman in Managua answered CNN's questions about Puracal's case via e-mail, and provided this statement: "We continue to follow Mr. Puracal's case closely; we visit him regularly and are in contact with his family and attorneys in the United States. However, private citizens must work through their attorneys within the host country's legal framework. Our role is generally limited to ensuring U.S. citizens are not singled out and treated more harshly simply for being American. We also monitor conditions in foreign prisons and can protest allegations of abuse against U.S. citizen prisoners when requested to do so."
Spokeswoman Elizabeth Finan wrote that consular representatives have visited Puracal on 19 occasions and "explained the basics of the Nicaraguan appeals process" to him. State Department representatives who understand Spanish and the Nicaraguan legal system were present at Puracal's trial, and a consular representative most recently visited Puracal on Jan. 26 to check on his health, according to Finan. A U.S. Navy physician visited Puracal in June 2011.
Citing privacy restrictions, Finan would not disclose details of Puracal's condition.
"I know it is bad. I don't need someone to tell me that," said Dr. Daisy Zachariah, Puracal's mother and a general practitioner in Tacoma, Washington. She visited her son late last year.
She went there not just as a mother but as a physician, hoping to show her son how to rebandage his burns.
"He was bleeding through," she said, her voice cracking. "I have never seen something so upsetting. My son in that horrible place. I was so stunned sitting there."
She broke down when she left.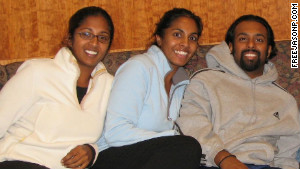 Jason Puracal sisters Jaime and Janis Puracal have campaigned to free their brother.
"I was thinking," she said, "about the way his life used to be."
A fateful assignment
When Jason Puracal was an undergraduate at the University of Washington studying zoology and economics in the early 2000s, his dream was to become a veterinarian. He didn't apply to vet school right away because he first wanted some real-world experience. He looked for a job that might lead to working with exotic animals, so he applied to the Peace Corps. His family says he was hoping for a post in Africa.
Instead, he was assigned to Nicaragua.
"He told us, 'This is a good opportunity,'" Janis Puracal recalled. The Seattle attorney has led a campaign to draw attention to her brother's case. "Jason ended up really loving it. He appreciated how hardworking and family-oriented the people were."
Puracal lived with a family in a tiny mountain village outside the city of Esteli in the northwestern part of the country. Their tiny wood shack had no electricity or running water, but he thrived on the physically demanding job that earned him a few hundred dollars a month teaching sustainable agriculture to locals, his family said.
Toward the end of the two-year Peace Corps stint, Puracal met and married a Nicaraguan national named Scarlett, and they had a son, Jabu, who is now 4.
They settled in San Juan del Sur, a popular beach town in southwest Nicaragua. To support his family, Puracal started doing an unpaid apprenticeship with a ReMax agent and eventually began running the office himself, according to court documents his attorneys provided to CNN.
Looking fit and wearing a floral button-up shirt, Puracal was featured in 2007 on the popular HGTV show "House Hunters International" trying to sell a tony beach-front home to an American couple.
Some of Puracal's supporters feel that it drew a lot of attention to Puracal, giving locals the false impression that Puracal had a lot of money. It might have made him a target, they theorize.
The raids, arrest and imprisonment
During the afternoon on Nov. 11, 2010, Nicaraguan police raided the real estate agent's home and office.
Puracal's mother was visiting at the time, and was with her grandson and his babysitter when armed men in black masks surprised her in her son's living room, she said.
"They were pulling their gear (out)," Zachariah recalled. "Of course, it was shocking. I thought we were being robbed until I saw the (police) insignia on their jackets. I guess I stayed calm because of Jabu and my training as a physician."
Basic chain of custody rules were ignored here
Ex-FBI agent Steve Moore
When Nicaraguan police raided Puracal's ReMax office, they arrested him and confiscated his files, the defense says.
Police also took custody of Puracal's truck and the clothes he was wearing; yet 48 hours after he was detained, police asked Puracal to put his clothes back on and get in his truck so authorities could take pictures, according to ex-FBI agent Steve Moore, who has reviewed the case documents. He said police then claimed they found a substance that could be cocaine.
"Basic chain of custody rules were totally ignored here. Someone could have easily planted anything on the clothes or the truck," said Moore, who spoke out for Amanda Knox when the American woman faced murder charges in Italy.
"I tend to want to give the benefit of the doubt to law enforcement, but Jason's case was just wrong," the ex-agent said. "I saw nothing except the most circumstantial coincidences that, brought to light in a U.S. court, would blow the prosecution's case away like a dandelion."
U.S. Rep. Adam Smith, a Democrat from Washington, told CNN that the warrantless searches of Jason's home and office qualify his case as a "kidnapping." A Nov. 28, 2011, letter Smith and several other lawmakers sent to U.S. Secretary of State Hillary Clinton urges "immediate attention" and said the judge in the case may not have been qualified to preside over the case under Nicaraguan law.
"It's outrageous what's occurred," Smith said, adding that he is troubled that an appeal hearing requested by Puracal's defense has been repeatedly delayed.
Back in Seattle, Janis Puracal is planning her next visit with her brother. There's no guarantee that prison officials will allow her to see him.
She is haunted by the first time she saw her brother after his arrest. She remembers the stench in the prison, and walking down an open-air hall topped by barbed wire, stepping over puddles of water with insects buzzing in them. She remembers the inmates screaming, constantly screaming.
Her brother ran when he saw her, pumped up on hope and adrenaline. He told her to retrieve his files in his office, she recalls, not knowing then that the authorities had taken his records.
Jason Puracal thought, and so did his sister, that he would be free in a few days.
"It was a mistake," she said. "We thought everyone would see that. They have to see that."