RPCV's High Atlas Foundation supporting Morocco earthquake victims
Supporting Morocco Earthquake Victims
Donating to trusted charitable causes and non-profit organizations is the best way to support people affected by the disaster. We've listed organizations that either have teams on the ground or are supporting partner organizations with vital funding or supplies. We've also included a few actionable tips to help you avoid fraud and stay safe while you donate.
What Happened?
A large earthquake has devastated parts of western Morocco, creating an increasingly desperate humanitarian situation. With an initial shock measured at 6.8 on the Richter scale, it's the nation's largest earthquake in 120 years.
The quake began at 11:11 p.m. local time on Friday, September 8th, 2023, with its epicenter near Adassil in the High Atlas mountain range, a remote region 72 kilometers (44.7 miles) southwest of Marrakech.
The effects have been felt as far north as Casablanca and over 300,000 civilians in Marrakech and its surrounding area are impacted. However, remote parts of the High Atlas mountains are the worst affected, and some settlements there may be almost entirely destroyed.
First responders have struggled to reach these communities with aid because fallen rocks and other debris have been blocking mountain roads.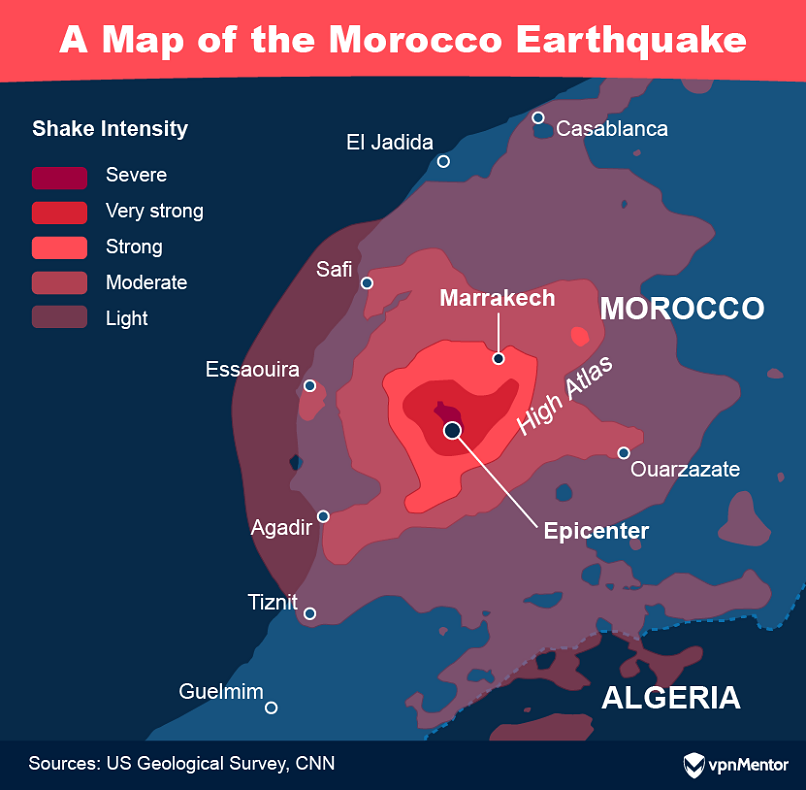 According to an official update from Morocco's Interior Ministry, as of September 12th, 2023, 2,901 people were reported dead and 5,530 injured. However, these figures were expected to rise as first responders reached more remote communities.
Earlier reports from Moroccan authorities state that the Al Haouz province — a region of 570,000 people — accounts for over 50% of the reported deaths. Two more provinces that overlap the Atlas Mountains, Taroudant and Chichaoua, are the second- and third-worst affected provinces. At least 17 people are dead in the city of Marrakech.
The Moroccan army has mobilized search and rescue teams and, in addition to three days of national mourning, King Mohammed VI has ordered water, food, and temporary shelter to be sent to those who've lost their homes. He also ordered that homes be rebuilt, prioritizing those of the most vulnerable people.
The Moroccan government has accepted aid from four countries, including Britain, Spain, Qatar, and the UAE, but authorities still haven't made an international appeal for help. This means that under-resourced local teams are largely leading efforts in remote areas, and vital aid from other countries and organizations can't be accessed.
Insufficient Aid
Moroccan authorities made bilateral contact with a few select nations over the weekend following the disaster to green-light the provision of aid and rescue teams.
Spain and the UK have sent search-and-rescue teams, while Qatar's state media reports the nation has deployed rescue teams, medical aid, and specialized vehicles. Several NGOs are also helping.
But by Sunday, September 10, numerous governments and aid groups, including France, Germany, Italy, and the United States, were still waiting for permission to enter the country. According to Rescuers Without Borders, around 100 UN-registered rescue teams were on standby.
Morocco's decision to only accept aid from "friendly countries" has impacted its disaster response. With official support in some places practically non-existent, locals resort to digging people from the rubble using only shovels or their bare hands and driving victims to the hospital themselves. Without shelter, people sleep in the streets under make-shift tents. In some remote settlements, people have been running out of food, water, and sanitary supplies.
Stanford University's Moroccan-American historian, Samia Errazzouki, summed up the tragedy of Morocco's "heavily controlled and centralized" approach in an interview:
"The immediate hours of any natural disaster are the most crucial," she said, yet the government's response has been slow, disorganized, and insufficient. "How many lives could have been saved?"
Sylvie Brunel, a geography professor who formerly worked for the non-profit Action Against Hunger, claimed while speaking to Le Figaro that Morocco is refusing aid because it wants to show that it is "sovereign, capable of piloting its own search and rescue" and not a "poor wounded country that the whole world wants to charitably save."
While the Moroccan government may have legitimate reasons for being selective in the aid it allows, the fact remains that hundreds of thousands of innocent people are in desperate need. Donating to NGOs who are active in Morocco is the best way to get help to them.
High Atlas Foundation
Website: https://www.highatlasfoundation.org/
Location: Morocco
Types of Aid Provided: Shelter, Food, Water, Medical Aid, Transport, Long-term Recovery
Founded by Peace Corps volunteers in Morocco, the High Atlas Foundation is an NGO that's primarily focused on sustainable development. Following the earthquake, the organization has created a fund to help save the mountain communities it has been supporting for over 20 years.
The High Atlas Foundation offers direct emergency assistance to communities within the High Atlas Mountains, including the distribution of essential supplies like blankets, shelter, and non-perishable foods. The foundation is currently focused on rapidly reaching mountain areas with aid, but is also committed to providing long-term support to rebuild High Atlas settlements.
To support the organization's efforts, you can donate to its Earthquake Relief for Moroccan Communities fund.