Exploring the Peace Corps' sixty-year history in Thailand
Peace Corps in the news
Thanks for the 'heads up' from Dale Gilles (Liberia 1964-66)
by Samantha Rose
Thaiger Latest News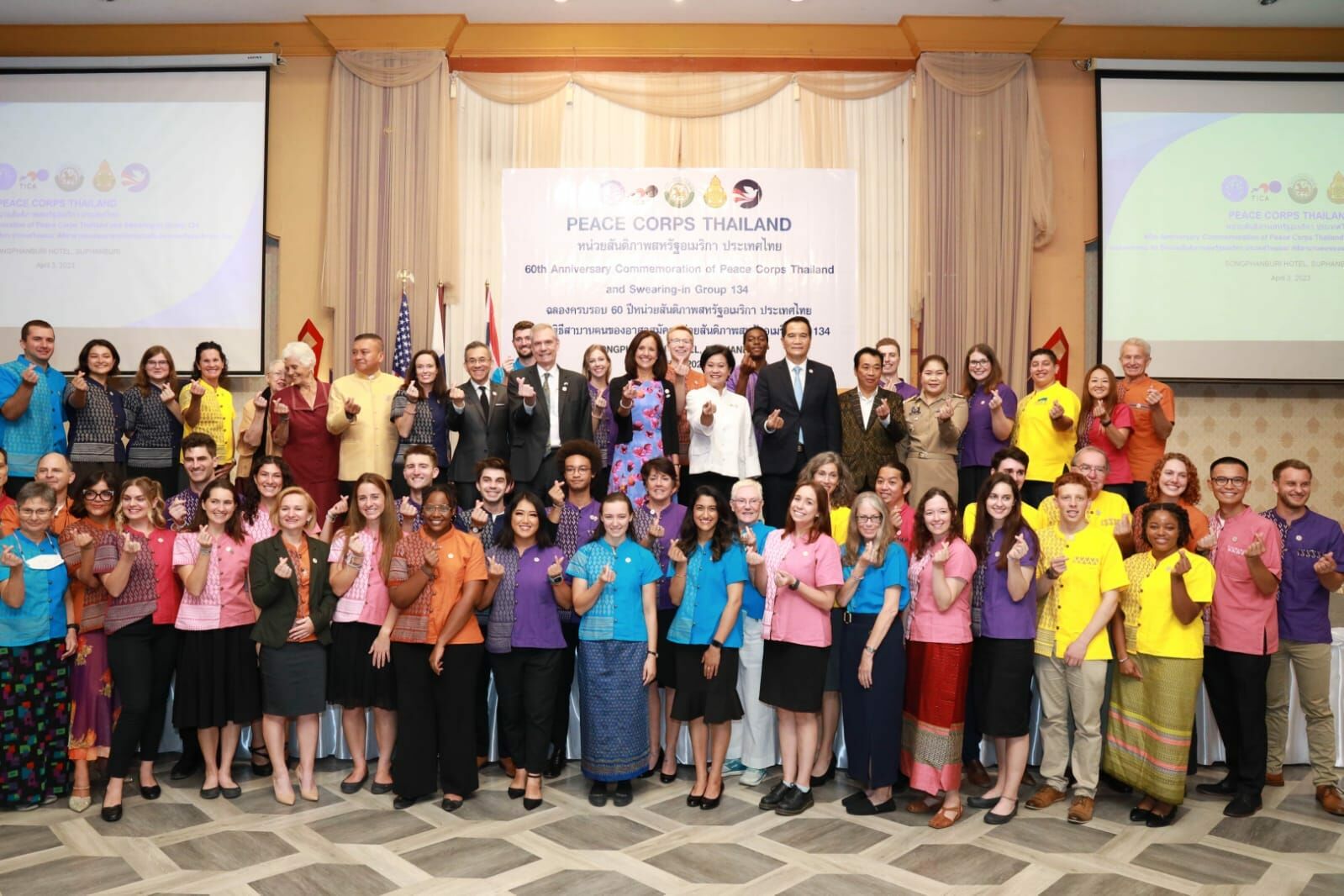 The Peace Corps is a United States agency established in 1961 by President John F. Kennedy to promote peace and friendship worldwide. Peace Corps volunteers have been working in Thailand since 1962, assisting Thai government agencies in various fields. Currently, they operate in two main projects: Teacher Collaboration for Development and Youth Development. Over 5,500 volunteers have worked with Thai communities for more than 60 years, but their work was halted due to the Covid-19 pandemic.
This year, Peace Corps volunteers returned to Thailand and underwent a 10-week training programme before being dispatched to 29 provinces across the country. Their swearing-in ceremony coincided with the 60th-anniversary celebration of Peace Corps cooperation in Thailand.
It is always exciting and impressive when encountering foreigners who can communicate excellently in the Thai language. Recently, at the Peace Corps swearing-in ceremony in Suphanburi province, the Sanook team was astonished as all American volunteers were able to speak Thai fluently and even performed Thai songs. Apart from their language ability, the volunteers' goals and aspirations for their journey in Thailand were equally remarkable, such as working within Thai communities, living with locals, and exchanging cultures with one another.
For over six decades, the Peace Corps has been providing English language education support to Thailand. This is the story of the 134th batch of Peace Corps volunteers, who recently returned to Thailand to serve and learn about local culture. The Peace Corps is well-known for allowing its volunteers to live in local communities, learning the Thai language, arts, and culture for two years. However, before joining their communities, the Peace Corps always has training sessions to prepare their volunteers for local life.
The training is conducted by Thai instructors who teach the volunteers about Thai culture, language, and food. In return, American volunteers share their knowledge of English and American culture, forming a unique and valuable cultural exchange. Despite the ongoing Covid-19 situation that disrupted the celebration of the 60-year anniversary, the spirit and determination of the Peace Corps volunteers remain strong, as they continue to contribute to the development of English language skills and instill confidence in Thai youth for the future of the nation, reports Sanook.