"Downsizing Books" by John Coyne (Ethopia)
When I was growing up on a farm in Illinois all six of us kids (I was the youngest) waited for the  Saturday Evening Post to arrive in Wednesday's mail so we'd have stories to read over the weekend. After dinner, whichever of my three sisters was washing the dishes that night would prop a book up against the kitchen window so she could read as she scrubbed. Since my job was to dry, I couldn't pull off that trick. But I loved books too, and before I learned to read, my oldest sister would read to me whatever Jane Austen or Brontē novel she had gotten from the village library.
We read so many books, in fact, that soon my older siblings had gone through everything deemed "age appropriate" by the librarian, Mrs. Butterfield. So one day she refused to let my sister Eileen check out the book she'd chosen. My mother, an Irish immigrant, went into town, entered the one-room library and, gesturing at the stacks, informed Mrs. Butterfield that the Coyne children had permission to read any book in the place.
Today, years after leaving the Midwest, my home office is crowded with the books I have collected over time and in a way they are a road map to my life and career. All that is missing from the shelves are the first books I had as a child, Edgar Rice Burroughs' Tarzan stories and the Hardy Boys novels. In the years before the iphone and gaming I lost myself in the imagination of Burroughs and the adventures of the Hardy Boys.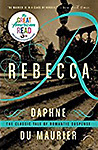 Then one day in my preteen years I discovered Daphne du Maurier and read the opening sentences of Rebecca.
Last night I dreamt I went to Manderley again. It seemed to me I stood by the iron gate leading to the drive, and for a while I could not enter, for the way was barred to me. There was a padlock and a chain upon the gate. I called in my dream to the lodge-keeper, and had no answer, and peering closer through the rusted spokes of the gate I saw that the lodge was uninhabited.
I was hooked. I read those lines and thought: anyone who can write like this is powerful.
At twelve years of age, I wanted to be a powerful person.
That one paragraph began my career as a writer. And in all my years since I have been seeking out writers who could stop me cold with their prose.
Looking at my bookshelves today, I don't see the spines of jackets as much as I see my life and how I lived it. I see novels that taught me about the world. Novels full of a cast of characters who became my best friends and my heroes.
To stretch a metaphor, these books on the silent shelves have a thousand voices and each one, at some point of my life, had something to say to me.
Leaving du Maurier behind, I went to high school and discovered two writers who not only captured my attention with their prose, but wrote about people closer to me, growing up in small town Midwest America. J. P. Marquand's Point of No Return, a coming of age novel, where the hero reaches a turn point in his life and looks back at who he once was. What kid doesn't wonder: what will become of me?
Marquand also spoke to me as a teenager for I spent my summers caddying at a local country club and read Marquand's satiric short stories about country club life, first in Sports Illustrated, and later in a collection entitled Life at Happy Knoll. I saw and learned how a country club experience — such as my own — could be turned into fiction. I would grow up to write, among other books, three novels with caddies casted as protagonists.
Marquand wasn't the only contemporary novelist who stepped away from his society and turned his past into prose. On my bookshelf today is The View From Pompey's Head by the southern writer, Hamilton Basso.
Like Marquand, who focused on the upper classes of New England, Basso wrote of the social patterns in the south. There is satire in his novels, much as there is with Marquand, but what stayed with me is the nostalgia Basso had for his time and place in the south. I was drawn towards his reminiscence and lyrical language of yesterday.
These writers, however, didn't have the emotional pull I felt when reading F. Scott Fitzgerald. Here was a Midwest writer, a poor kid, a novelist who wrote like an angel. Today my shelves are still stacked with his fiction, plus books about and around his life, everything from Andrew Turnbull's biography to a collection of Fitzgerald's stories and essays, as well as Nancy Milford's biography of Zelda, published in 1970, that brought readers' attention back to the Fitzgeralds and the Twenties. These books show my fascination with F. Scott that has stayed with me since I first discovered Gatsby in my high school library.
But the book that exploded my innocent adolescence years and broadened my awareness of what novelists could do was The Catcher in the Rye. I wasn't the only kid in the early Fifties dazzled and delighted by J.D. Salinger.
The Catcher in the Rye was a novel about 'us' (or who we imagined ourselves to be) written with such force that we were secretly afraid our parents might read it too and know what we secretly thought about ourselves and the world in which we lived. I devoured Salinger's short stories that appeared in The New Yorker, Saturday Evening Post, Good Housekeeping and Harper's and which I reread later in his collections. His cherished stories on my bookshelves are well-worn and I handle them with reverence when occasionally I take down a paperback to read a line or two from A Perfect Day for Bananafish or Pretty Mouth and Green My Eyes.
I wasn't just captivated by Salinger's style, his language and attitude, or his tone and subject matter, but by the way he approached telling a story that tossed the whole idea of "sacred literature" up in the air and what came tumbling down was real and now. It might just have been me whispering a secret to the kid sitting in the next desk, or the sharing of a dirty joke on the school bus.
I not only wanted to read everything that Salinger wrote; I wanted to write just like him.
Salinger wrote of a place beyond my knowledge and imagination, the east coast world of New York City's West Side streets far from my rural life. I wanted to write about my Midwest small town farm life with the same gutsy prose and haughty attitude.
It didn't work. When I applied and was accepted into Saint Louis University's Writers' Institute, the professor took my Salingerist short stories I had sent with my application and handed them back to me, saying, "John, this isn't you." And indeed, it wasn't.
"What was me," he said, picking up my short story about a high school senior leaving home and going off to college, "was this 'style'." I was able to create on paper, he said, (and this I would remember) "prose that lingers like a long goodbye." I had a gift for sentimentality he told me.
It is no wonder I was captivated by the opening line of Rebecca, and drawn to Fitzgerald's writing, or would respond immediately to Hemingway's Big Two-Hearted River. It was true, I nodded. And then he added as a professor who had also worked in the publishing world, "And that is good, because you can always sell nostalgia."
But graduating from college, leaving the Midwest, going out into the world I couldn't publish my pensive prose, and becoming a writer took a back seat in my life as I went in 1962 to Ethiopia with the Peace Corps and found another world of literature and adventure.
I began to collect books on Africa. I filled my bookshelves with histories, biographies, and fiction about the ancient and enchanted empire of Ethiopia. This is a nation that over time had attracted such writers as Evelyn Waugh, Alan Moorehead, Alan Scholefield, Philip Caputo, and Paul Theroux.
Today, I still have books on the sociology, anthropology, culture, and history of the nation. Ethiopian classics such as Wax & Gold by Donald Levine; Graham Hancock's The Sign and the Seal; and Richard Pankhurst's, The Ethiopians. There is also the memoir by an Irish woman named Dervla Murphy famous for her inimitable travel, seeing India on a bicycle, and crossing the highlands of Ethiopia with a mule. Also a novel published in 2009 entitled Cutting for Stone, written by an Indian doctor, Abraham Verghese, about an Indian, raised in Addis Ababa who came to the U.S. for his medical training, then returned to Ethiopia, his home.
But my favorites among dozens of Ethiopian books are those focused on the Nile, classic historical accounts such as From Red Sea to Blue Nile: A Thousand Miles of Ethiopia  by Rosita Forbes, published in 1925, and Virginia Morell's Blue Nile: Ethiopia's River of Magic and Mystery that came out in 2001. These are just two books about the Nile, going back, of course, to the first  account, Travels to Discover the Source of the Nile by James Bruce.
Back in the U.S. in the late Sixties teaching writing and writing novels, I had to find room in my small apartment for texts and tools. Thick collections such as, The McGraw-Hill Reader: Themes in the Disciplines by Gilbert H. Muller.
At the time I was successfully publishing occult horror novels with 'Catholic themes" so my research came from reading: The Nun of Monza by Mario Mazzucchelli and Emmett McLoughlin's Crime and Immorality in the Catholic Church.

Soon, however, my shelves were filling up with copies of my novels: The Piercing, The Searing, Brothers & Sisters, etc. plus foreign editions! And next to them were thick anthologies with one or the other of my stories republished in The Year's Best Fantasy or  Horror or Modern Masters of Horror.
It wasn't until I started writing golf novels, however, that my book shelves went totally out of control. I hadn't realized just how many books were written about the game. Everyone who played had something to say, books like Kevin Nelson's The Greatest Golf Shot Ever Made. John Updike's Golf Dreams, as well as When War Played Through: Golf During World War II by John Strege.
Besides the history and the stories, there are books on how to play the game with titles like Ultimate Golf Techniques  and Think Like A Caddie Play Like A Pro written and published by the Professional Caddies Association.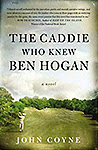 Having been a teenage caddie myself, that one particularly interested me, and inspired me to come up with a series of novels with caddies as the main characters and appearances by various masters of the game. My first "caddie" novel was focused on the golf hero of my teenage years, Ben Hogan, and entitled, The Caddie Who Knew Ben Hogan. In doing research on this golf professional, I collected over forty books, everything from Ben Hogan's "Secret" to Ben Hogan: An American Life by James Dodson.
My next golf book focused on the legendary Walter Hagen who in his day was to golf what Babe Ruth was to baseball.
These were the years before titanium woods and graphite shafts and my novel about Hagen was entitled The Caddie Who Played with Hickory. Writing it required research into the history, equipment and the changes in the game and the purchase of Golf and the American Country Club and Classic Golf Stories.  
The Masters held in the spring in Georgia, a tournament of golf gravitas, worthy of a King. Augusta National has had since 1934 more than one king, going from its founder Bobby Jones to Ben Hogan, Tiger Woods, and especially Jack Nicklaus. I entitled my third golf book, The Caddie Who Won the Masters; a novel about an amateur golfer, who with help from the legends of the past, wins in Augusta.
I paused in what I was writing everyday on this site, and for magazines and newspapers, and looked back at my life. What I hadn't written about were the years that are the most important in all our lives, the Peace Corps. Turning again to Ethiopia, I wrote, Long Ago and Far Away, published by Peace Corps Writers Books. It is a book that spans four decades, and three continents, beginning in Addis Ababa, Ethiopia, and brings together most of my experiences and places where I have lived.
I have reached a point when I have to downsize the literature on my shelves. But what to do with so many books?
Libraries don't want them as their shelves are already jammed with generations of classics. Besides, who needs a hardback when everyone is reading on Kindle or listening to an audiobook as they work out on the treadmill or drive to work?
No one has time to curl up in a corner with the latest bestseller, let alone a book on ancient Abyssinia or a novel about a kid caddying for Hogan. In time, I'm sure, we'll be asking, "whatever happened to libraries?" while in the homes of tomorrow old fashioned bookshelves will be filled with video games, framed photographs and potted plants.
I've reached a point in my life when I'm told to downsize, to clear the clutter and make it easier for others to sort through my things when it is time.
But when I look around, the new generations are reading books, real books, the kind on my shelves, that you pick up and hold and perhaps have an author's signature inside the cover, independent bookstores are bustling. They are reinventing themselves, combining lectures, cafes, and lovingly and carefully selected material to line the well-browsed shelves.
For me, downsizing of my books will not be. Arranged chronologically, they remind me of my life and its variety and richness. My books give me strength and sustenance, and they give me pride in the way I have lived, the friends I have. I'll be 85 this year and I'm still thinking, "what am I going to write about next?"