Remembering Roger Landrum (Nigeria)
National Peace Corps Association and the Peace Corps community mourn the passing of Roger Landrum (Nigeria 1961-63), who died early on Saturday, December 9, at his Washington, D.C. home following a brief illness.
Roger was a central figure in the creation of what is now the National Peace Corps Association.  In his career in Washington, D.C. Landrum also became a leader in the national service movement, becoming the founding president of Youth Service America and the later Youth Service International.
For several decades Roger worked closely with the Ford, Kellogg, and Mott foundations, and other philanthropies that supported non-government movement to offer voluntary community service in programs modeled after the Peace Corps. He worked closely with other champions of national service, including Senator Harris Wofford and Father Theodore Hesburgh.
Roger was dedicated to the notion that all young people find their voice, take action, and make an impact on vital community issues. He helped lead efforts resulting in the passage of the National and Community Service Acts of 1990 and 1993. For this work, Roger was recognized by his alma mater – Albion College – with an Honorary Doctorate in Public Service. Before his death, he endowed a fellowship program for students at the college.
Roger served as a Peace Corps Volunteer in Nigeria from 1961 to 1963 and became the subject of a popular documentary, "Give Me a Riddle," that was filmed by a close friend and fellow Nigeria volunteer, David Schickele.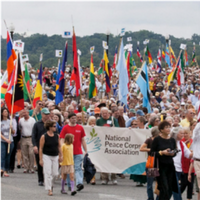 Seven years after the formation in Iowa of the National Peace Corps Association (originally known as the National Council of Returned Peace Corps Volunteers) Roger, as president of the RPCVs of Washington, D.C., played a lead role in the celebration of the 25th anniversary of the Peace Corps. The 1986 gathering drew more than 5,000 Returned Peace Corps Volunteers to the nation's capital. As Roger wrote in a blog post published on the Peace Corps Worldwide website, "The most enduring impact of the 25th anniversary conference was engaging the growing number of Returned Peace Corps Volunteers as an organized force supporting the three goals of the Peace Corps."
As NPCA affiliate groups continue to serve as a major force in our community, a quantum leap in development occurred in the immediate aftermath of the anniversary conference, where the number of affiliated groups of RPCVs surged from a handful to over 100.
"Roger was a pivotal figure in the history of NPCA" says NCPA President & CEO Glenn Blumhorst. "He personified a lifelong commitment to Peace Corps ideals, and his legacy of leadership through service will long be remembered by the Peace Corps community."
Along with a longstanding commitment to service above self, Roger also excelled in the field of photography. During his Peace Corps service, he grew increasingly interested in photography, resulting in work and recognition in fine art photography. In 2008, Roger received the Prix de la Photographie Paris. He was a first-place winner in the 2008 International Photography Awards (IPA) and received further recognition for his work by the IPA in 2009.